A place both wonderful and strange is coming to Melrose Ave.
**UPDATE** as of Oct 25, the Pop-Up has been EXTENDED through Sunday, Oct 29th.
Calling all Twin Peaks fans! This Monday, something wonderful is happening in Los Angeles.
Beginning Monday, Oct. 16th for 7 DAYS, The Double R Diner is taking over Los Angeles for a special Halloween Pop-Up event featuring "Costumes, Collectibles, Coffee, & more."
The news was first announced via the official Showtime Twin Peaks Twitter account, where fans had to decipher for themselves the location based on this visual cue:
For those in the know, that's the old Johnny Rockets on Melrose, which is currently in the process of being transformed into the Double R as we speak for this surprise Lynchian Halloween treat.
If you don't already have your Halloween costume, this would be the perfect place to pop in and shop for a Twin Peaks inspired get-up, including, according to LAist new characters from the recent revival, like Candie and Dougie. (I personally hope they also have Bad Coop and Diane options)
No doubt there will also be the likes of donuts, cherry pie and coffee on hand and maybe a surprise or two, so don't miss it!
We'll see you on the other side. Just remember,'the owls are not what they seem.'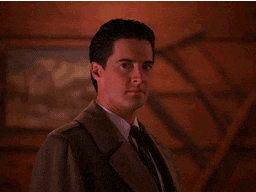 Twin Peaks Halloween Pop-Up Shop
Oct 16-22, 7505 Melrose Ave, 12:00-8:00pm